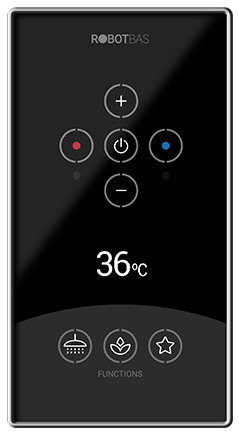 Domotics
in the bathroom
AQUA, the new family of ROBOTBAS smart showers
In September 2018 ROBOTBAS and SEDAL reached a collaboration agreement for the development of new devices focused on improving the user experience in
the bathroom and optimizing water and energy consumption. Thanks to this collaboration, ROBOTBAS presents its new family of intelligent showers AQUA.
With the new ROBOTBAS intelligent showers, the bathroom becomes part of the entire domotic system of the room, providing the guest with comfort and, at the same time, optimizing and reducing the consumption of water and energy.
Special functions
Para mejorar la experiencia de usuario con funciones preestablecidas o personalizables desde la app móvil como por ejemplo:

Warm Up
This function allows you to reach the desired temperature before
the guest get in the shower.
Fill bath
System configuration that allows to fill the bath at the set temperature and level automatically. With this function, water consumption is optimized, since the shower adjusts the water temperature during filling without wasting water, by taking advantage of the cold water at the start.

Spa
Executes water sequences combining temperature, flow and water jets.

Chromotherapy
If the shower has LED lighting, the activation of this option allows you to enjoy and stimulate sensations with a therapy that combines water and colors.

RELAX
In case that the bathroom has adjustable intensity lights, from the shower control you can activate a relaxing scene by reducing the intensity of the lights.

Do not disturb
By selecting this option the user can indicate to the room service the "Do not disturb" function by activating it from the shower.
Advantages
Some of the advantages of AQUA are: