Control

of

lighting

temperature

presence

humidity

water consumption
in rooms.
MORE RESPECTFUL WITH THE ENVIRONMENT
Automation in rooms allows energy consumption to be reduced by up to 40%.

Lighting control
Configuration of lighting scenes based on the needs of each client, such as scenes of entering the room, reading or resting, among others. When the room is empty, all the lights will turn off, minimizing energy consumption.
Temperature control
Users can manage the room temperature within parameters set by the property. If the room is empty, the temperature goes into saving mode, keeping the room at a comfortable temperature with minimum consumption.

Humidity control
Keeping the humidity in the room at a set percentage allows a dehumidification process to be carried out when the room is empty, avoiding mold problems or furniture deterioration.

Presence control
Motion sensors allow both temperature and lighting to go into standby time mode when rooms are empty, thus reducing energy consumption. They also make it easier for the hotel service staff to know the status of the room.

Water control
The bathroom becomes part of the entire domotic system of the room thanks to AQUA, the new ROBOTBAS intelligent showers. Those device provide the guest comfort and, at the same time, optimize and reduce the consumption of water and energy.

Curtains or blinds control
The automation of motorized curtains or blinds allows you to make the most of natural light or have the privacy required with a single touch of the button, maximizing comfort and the experience of guests.
Compatibility with the most popular frame series on the market
ROBOTBAS devices are compatible with frames from the LS990, S82, S100, LivingLight and Axolute series, making it possible to unify the design and image of the hotel. Likewise, having the possibility of carrying out our own production allows us to offer our clients a personalized iconography to their design and needs.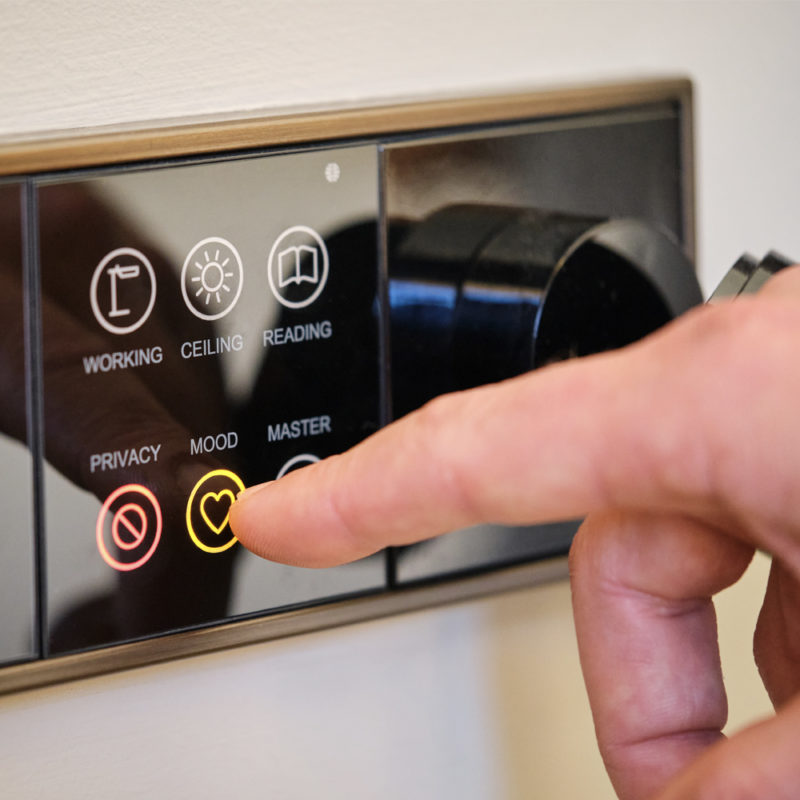 LS990
Glass devices in black, white or customized colour.
S82
Plastic devices in graphite, white or silver colour.
S100
Plastic devices in black or white colour.
LivingLight
Plastic devices in graphite, white or silver colour.
Axolute
Plastic devices in graphite, white or silver colour.
Hotel specialists
Our systems allow hotel companies to control the consumption of their hotels, optimizing the production of their resources and thus reducing operating costs.
The technology of ROBOTBAS
Easy installation and maintenance
The C3 bus technology developed by ROBOTBAS allows the room automation system to be easy to install (plug&play). By daisy-chaining all devices, wiring is greatly reduced, simplifying installation and reducing costs.
The simplicity of the installation and maintenance process allows the installation's own technical team to manage the system. In addition, the maintenance and remote control services offered by ROBOTBAS provide extra peace of mind to owners.
Using the RobotDesk software, an overview of all rooms can be obtained in real time.