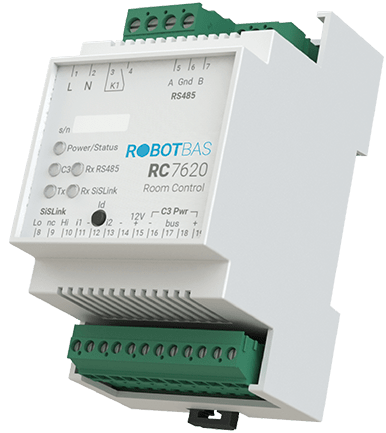 Large buildings are responsible for more than 40% of energy consumption. In this type of installations, energy consumption makes up a high share of the building's maintenance and operating costs.
What's more, increasing environmental awareness and new energy regulations promoted by the European Union call for efficient management of the resources consumed by these large consumers.
The R7000 series was created as the solution to all these problems. A new series of devices designed to work together, forming one single building automation system specifically for the management of large installations.
What is the
R7000 series?
The R7000 series represents a technological breakthrough in energy management for large buildings. ROBOTBAS has managed to apply the most robust industrial technology on the market to its building automation system, simplifying its installation and maintenance.
The SiSLink communication bus is a protocol designed by ROBOT, S.A. and based on the CAN (Controller Area Network) industrial communications standard developed by the German company BOSCH. The SiSLink bus makes it possible to communicate and synchronise all installation elements of a large building (boilers, HVAC system, lighting, etc.) in real time, and ensuring maximum energy efficiency every second.





Water and energy measurement







What benefits does the R7000 series have?
Value proposition of the R7000 series
Temperature sensor TS7301 LV

Room service signpost device SD7330i HD

Room service signpost device SD7532e JLS B

Room service signpost device SD7330e S82 B

Room service signpost device SD7533 JLS W

Motion detector MD7310 LB

Room service signpost device SD7330e HD

Communication module MC7952 JLS W