The entire coronavirus health crisis forces us as a society to adapt to new patterns of behavior and hygiene. In this situation, ROBOTBAS, brand of Robot, S.A., has studied multiple solutions that can help our clients to face the situation that lies ahead for us in the coming months. Today we present you our latest innovation: the Touchless range.
To avoid contact with surfaces, we have created new contactless push buttons that allow you to detect hand gestures without touching the device. These are switches that incorporate a gesture sensor through which it is possible to differentiate up to four different gestures, and activate different functions such as turning lights on and off, activating lighting scenes or opening and closing blinds, among others.
These new ROBOTBAS gesture switches are designed for common spaces such as hospitals, offices, shopping malls or hotel common areas, as they allow all workers who need to control lighting or other functions in that space to do so without having to touch the device.
In addition, its glass finish makes it easy to clean and disinfect the switches, and its design is compatible with the LS990 series frames.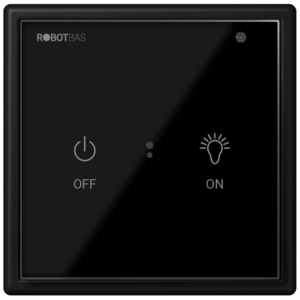 Using this type of automatism that substitutes the interactions of the users with the surfaces allows avoiding unnecessary contagions by COVID-19 and reinforces the hygiene measures necessary for the safety of the users and the workers.
This solution has been developed by Robot's internal R&D team to respond to circumstances that have arisen in recent weeks. These products are yet another example of our ability to design customized solutions to the needs of each of our clients.
BACK TO NEWS